"Easy meat": – Så utrolig at du ikke vil tro det
|
Seksuelt misbruk av britiske jenter, typisk utført av grupper pakistanske menn, er ifølge en politianalytiker så utbredt at man ikke makter å tro det er sant. Det snakkes om en million – ja, en million – ofre gjennom årene. Tross domfellelser i flere såkalte grooming-saker, klarer ikke britiske myndigheter å stoppe overgrepene. Merk så dette: Det er 170 ganger større sannsynlighet for at muslimske menn utfører overgrepene enn ikke-muslimer.
Det er ikke noe hyggelig så si dette, men det er vanskelig å unngå det: Hva om britiske menn i tusentalls hadde organisert massivt seksuelt misbruk av jenter med bakgrunn fra ikke-vestlige land, og spesifikt fra den islamdominerte verden? Voldelige opprør i gatene? Nasjonal alarm for å stanse overgrepene en gang for alle? Alle legale midler satt inn? Ja, ingenting av dette er utenkelig når det utenkelige faktisk skjer.
En usedvanlig åpen analytiker
Amerikanske CBN News har tatt turen over Atlanterhavet for å grave i fenomenet vi mange ganger har omtalt, de såkalte grooming-skandalene.  Reporteren får politianalytikeren George Igler til å stille åpent på kamera:
"When you encounter an issue that is just so unbelievable, just so outside your frame of reference and understanding, the immediate human reaction is just one to not believe it at all."
Fenomenet grooming, der gjenger av overgripere går etter sårbare jentebarn, er av tidligere toppolitiker Jack Straw omtalt som engelske «easy meat»-jenter for menn med «pakistansk bakgrunn», nettopp fordi mennene typisk går etter jenter fra ustabile familier eller som allerede er tatt hånd om av myndighetene.
Her kan du se reportasjen
Det er gjort beregninger som viser at det er en voldsom høy sannsynlighet for at overgriperen har muslimsk bakgrunn, og at fenomenet ikke kan snus på hodet: At hvite britiske ikke-muslimske menn i gjenger går bevisst etter britiske muslimske jenter:
This is when some shout 'racism,' but here are the facts: calculations based on convictions show that a British Muslim male is 170 times more likely to be a part of sex grooming gang than a non-Muslim. And there are no recorded instances of non-Muslims doing this to Muslim girls as part of a criminal enterprise.
I tillegg kommer denne sjokkerende opplysningen: I et lokalt område er det beregnet at seks av syv muslimske men enten visste om overgrepene, eller de var selv delaktige i dem.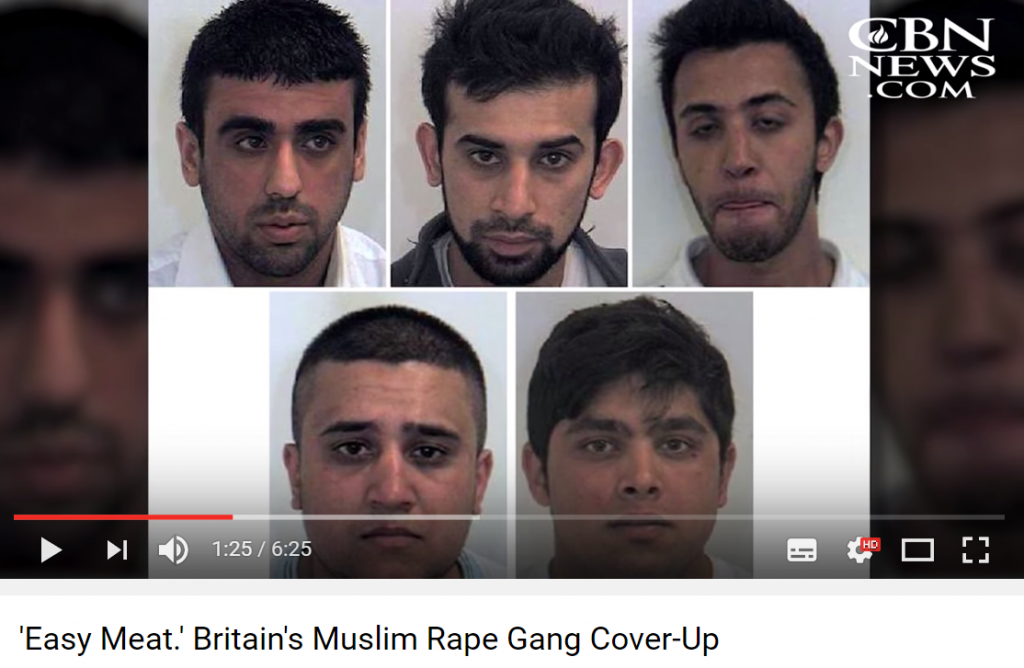 In one local jurisdiction, it was estimated that six out of seven Muslim males either knew about, or were part of, a grooming gang.
Voldsnivå av en annen verden
Politianalytikeren Igler slår videre fast dette om påstanden at fenomenet skjer hvor som helst, altså i alle deler av befolkningen:
"What you do not have is any example of non-Muslim men targeting Muslim girls for this organized form of abuse. So, the argument that this crime exists everywhere is not only false, but is being deliberately cultivated by the media and by the government inquiry that is kicking the can down the road."
Igler forteller videre at voldsnivået mot jentene er ekstremt høyt. Vi snakker om voldtekt med kniver og flasker, om å få tungen naglet til en bordplate. Jentenes omsorgspersoner snur ryggen til hva de åpenbart burde slått alarm om:
"The thing you have to understand about this rape of children is it's not just sexual abuse. It is unspeakable levels of violence, victims being raped with knives, victims being raped with bottles, victims having their tongues nailed to tables. These are sometimes girls who are picked up from a children's home on a Friday, are being raped during the course of a weekend by hundreds of men and returned with bleeding groins back to the children's' home on a Monday morning and they don't do anything about it at all."
"Multikulturell revolusjon"
Igler mener jentene er ofre for den "multikulturelle revolusjonen". Beskyldning om rasisme er «det mest kraftfulle våpnet»
"These girls are the victims of the multicultural revolution," says Igler, "and it is certainly an indication of the fact that this accusation of racism is potentially the most powerful weapon known to man."  "This is also an example of what can happen in a country of 60 million where the press just refuses to report; where the cries of all these agencies fail; fail to merely discuss what is going on."
The cover up was eventually exposed, yet the grooming gangs continue to operate. One victim told a British newspaper, "Nothing has changed, not in the slightest. It's still the same scale as before."
Igler said of the grooming gangs, "They get sexual kicks out of ruining the most precious possession that people have, their daughters."
En nasjon som ikke klarer å beskytte barna, har vel knapt en fremtid. Hvilke ringvirkninger vil det få når så mange barn ødelegges for livet?